Behind the scenes at One Roast Vegetable > Search engine phrases

Every few weeks or so I go behind the scenes at OneRoastVegetable.com where I can see lots of cool things about the website. For example, I can tell that last week we had new subscribers from Greenwich, UK and Warwick, Rhode Island and from Liverpool, Nova Scotia. Welcome!
Best of all, I can view the words people have entered into their search engine, before they arrived at my site.
#1 SEARCH PHRASE > Safeway roast chicken > leftover chicken

I roast a chicken about once every two weeks. I get a little fryer (1.4 kg – about 3 pounds), and the first night we eat it as roast chicken dinner. Then we have leftovers (usually Thai curried chicken), and then I make chicken broth from the bones every time we roast a chicken. I love using the chicken broth to cook rice, and to make homemade chicken noodle soup.
Leftover roast chicken is great in a simple quesadilla (flour tortilla + chunky salsa + grated cheese + chicken). Or you can separate leftover meat from the bones, and shred it into little pieces, you can put the roast chicken into a plastic bag and pop it in the freezer. Later, when you're craving a salad topped with roast chicken, or a quick homemade soup, you will have cooked meat on hand, ready and waiting.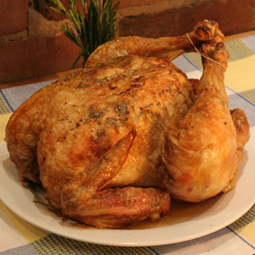 #2 SEARCH PHRASE > How long do you cook a 4 lb chicken > How long do you roast a small chicken?
This question comes up all the time 🙂 To answer, I'll assume that we're talking about an entire chicken with skin and bones because boneless meat would have a different answer. The time required to roast a chicken depends on two things: the temperature of your oven + how big the bird is. There's a bit of math involved. Set your oven to 350°F (180°C, gas mark 4), and then multiply the number of pounds by 20 to find out how many minutes to cook it for. If the weight of your chicken is measured in kilograms, then you multiply by 44 instead.
For example:
| | | |
| --- | --- | --- |
| Chicken (lbs) | Multiply by | Number of mins to roast at 350°F |
| 3 pounds | 20 | 60 minutes |
| 3½ pounds | 20 | 70 minutes |
| 4 pounds | 20 | 80 minutes |
| | | |
| --- | --- | --- |
| Chicken (kg) | Multiply by | Number of mins to roast at 350°F |
| 1.3 kg | 44 | 57 minutes |
| 1.5 kg | 44 | 66 minutes |
| 1.7 kg | 44 | 75 minutes |
My last chicken was 1.46 kg x 44 minutes = 64 minutes. This math works every time.
#3 SEARCH PHRASE > Chicken broth in Paris
It's kind of funny how this search phrase got someone to my site… but I know the answer 🙂 In Paris, you buy chicken broth in little cubes and add hot water. In Montreal, I'd never use a powdered broth. I'd either use homemade or broth in a can/tetra pack (Campbells, for example). But in Paris, I buy some of the little dried squares, and at least the brand I like is pretty darn good! (So good, in fact, that I bring leftovers little cubes back to Canada in my luggage.)
#4 SEARCH PHRASE > Why does food taste good on the beach? > Why does food taste better outdoors?

It just does. You're outside of your regular routine, you smell the fresh air, you look at your cute little sandwich with the crusts just cut off by the brand new FishingPicks.com knife, and suddenly it's no longer an egg salad sandwich, it's transformed into a picnic. I think it has a lot to do with childhood memories of picnics and camping and eating outside from out treat filled coolers and carving marshmallow spears with our parent's Gear Hungry knives. It was an event. It can still be an event, even when you're all grown up. For most of you it's too chilly to eat outside now (in Paris it was a balmy 7°C today, but in Montreal it is right now -9°C and snowing). But you can be sure that as soon as it's warm enough, I'll be eating my breakfast outside again.
In addition to the more useful search phrases above, I've had a few search topics that are more unusal or funny…
#5> Human eating chicken and salad
Really. What does this mean? Maybe they were looking a photograph of someone eating lunch.
#6> Is chicken OK if you freeze it the day you buy it?
Yes. I'm not sure what the question is, really. It's usually good to keep in the fridge for 2-3 days after you buy it (check the dates on the package). If you freeze chicken the day you buy it, you can probably leave it in your freezer for three to six months maximum.
#7> Does pasta go bad?
I don't think so … does dried pasta go bad? I'll assume this person was asking about dried pasta. Cooked pasta makes it pretty loud and clear once it's gone bad… by the smell…

#8 > Recipe chicken grave
I'll have to assume that they were looking for gravy.
#8> Roasting chicken lonely
Yes, I suppose it can be lonely. If you live alone you may not want to roast a whole chicken just for yourself. But I used to do it all the time, because the leftover meat freezes really well and as you can see from #1 above, there are lots of uses for it.
#9 > Chicken past its expiry
(Can you imagine searching the internet for this?) There's really only one suitable answer: THROW IT OUT!
---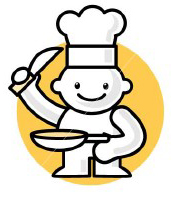 As always, I'd love to hear your feedback.
Just hit reply to this email and drop me a line 🙂
You can always reach me at shelley@oneroastvegetable.com.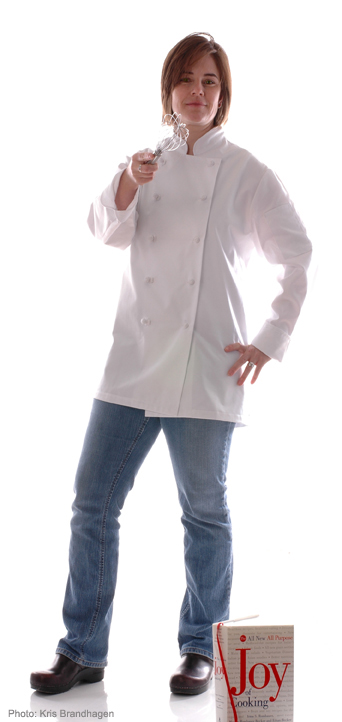 All best,

PS/ For step-by-step illustrated recipes on how to make homemade chicken broth or Thai curried chicken, you can check out "Successful Home Cooking." Valerie from Washington calls it her Home Cooking School.
---
What people are saying about "Successful Home Cooking":
"As the President of Global-Fitness.com for the last 11 years, I've seen a lot of recipe books and diet plans. I have to say, "Successful Home Cooking" by OneRoastChicken.com might be the best I've ever seen. Yes, the recipes are healthy and delicious … but what makes it so much better than the rest is the crystal clear color photos and the step-by-step, fool-proof instructions. You just absolutely cannot go wrong and I highly recommend it to everyone!" — Chad Tackett, www.global-fitness.com
"I love the pictures! I made the roast chicken and had a friend over for dinner, and it was totally successful and delicious!" — T. Williamson, Georgia, USA
I like the details you give: the REASONS for doing things and EXPLANATION of why you do something. (Like don't reheat in the microwave unless you want to eat sponge.) I can't wait for leftovers tomorrow and for more recipes. — Priscilla, British Columbia, Canada
---
"Successful Home Cooking" is selling like cold lemonade on a hot day!
Not just another cookbook, these are cooking lessons in full-colour delivered right to your kitchen. All recipes include pages of colour photography and step-by-step instructions.

Order your copy of "Successful Home Cooking" now…
It comes with a 60-day money-back guarantee. Your friends are going to say "WOW, did you make this?"
---